Dr. Guy Owen Dupon is at it again. In second book of
the Dupon saga, we find Guy persuaded by the O'Grady
children to create the world's most expensive, creative
and futuristic indoor theme park in the world.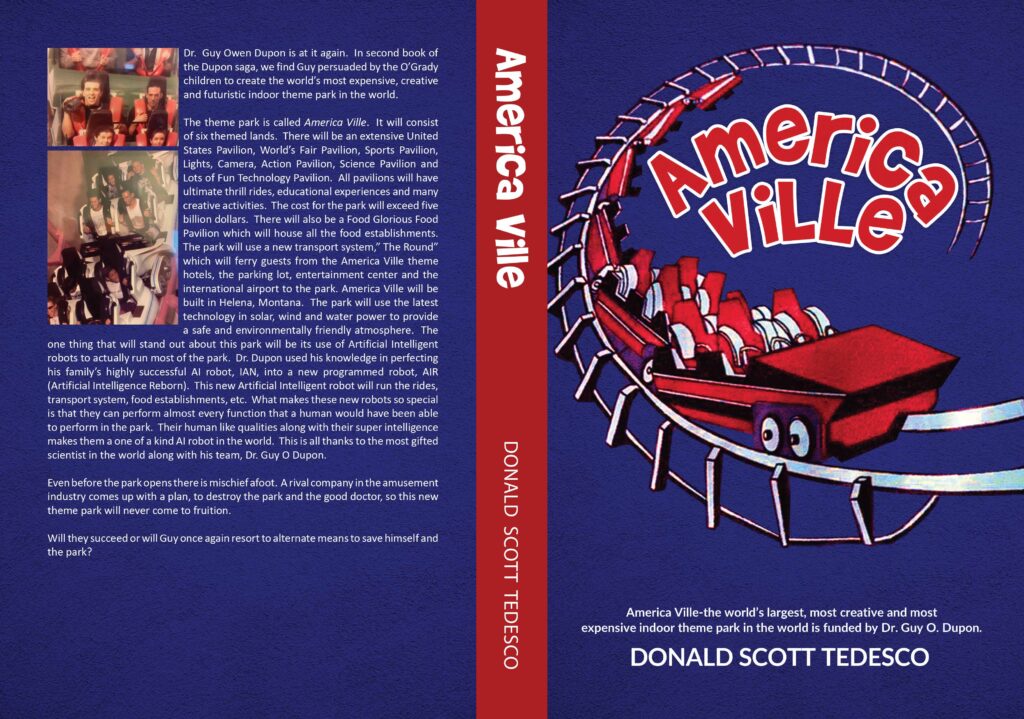 The theme park is called America Ville. It will consist
of six themed lands. There will be an extensive United
States Pavilion, World's Fair Pavilion, Sports Pavilion,
Lights, Camera, Action Pavilion, Science Pavilion and
Lots of Fun Technology Pavilion. All pavilions will have
ultimate thrill rides, educational experiences and many
creative activities. The cost for the park will exceed five
billion dollars. There will also be a Food Glorious Food
Pavilion which will house all the food establishments.
The park will use a new transport system," The Round"
which will ferry guests from the America Ville theme
hotels, the parking lot, entertainment center and the
international airport to the park. America Ville will be
built in Helena, Montana. The park will use the latest
technology in solar, wind and water power to provide
a safe and environmentally friendly atmosphere. The
one thing that will stand out about this park will be its use of Artificial Intelligent
robots to actually run most of the park. Dr. Dupon used his knowledge in perfecting
his family's highly successful AI robot, IAN, into a new programmed robot, AIR
(Artificial Intelligence Reborn). This new Artificial Intelligent robot will run the rides,
transport system, food establishments, etc. What makes these new robots so special
is that they can perform almost every function that a human would have been able
to perform in the park. Their human like qualities along with their super intelligence
makes them a one of a kind AI robot in the world. This is all thanks to the most gifted
scientist in the world along with his team, Dr. Guy O Dupon.
Even before the park opens there is mischief afoot. A rival company in the amusement
industry comes up with a plan, to destroy the park and the good doctor, so this new
theme park will never come to fruition.
Will they succeed or will Guy once again resort to alternate means to save himself and the park?